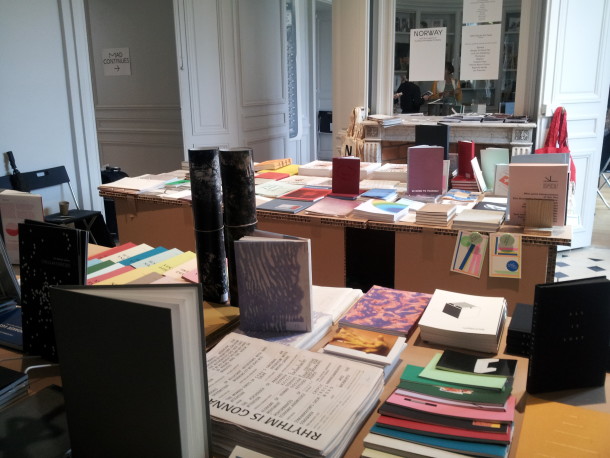 Bastard på Multiple Art Days i Paris 2018
(Scroll down for English)
Kunstbokmessen Bastard 
Kunstbokmessen Bastard er et årlig arrangement i regi av Oppland kunstsenter under Norsk Litteraturfestival som utforsker skjæringspunktet mellom visuell kunst og litteratur. Messen er en arena for overlappingene mellom litteratur og billedkunst, og består av aktuelle publikasjoner, samtaler og presentasjoner der disse to feltene bryter inn i hverandre. Messen arrangeres for 3. gang i 2019.
Kjernen i Bastard er kunst som ytring. Kunst som språk. Kunst som henvender seg til samfunnet. Kunst som vil bli sett, lest og opplevd.
Bastard fokuserer særlig på krysningspunktene mellom det visuelle billedspråket og teksten, litteraturen og boken. Det er en jungel av tekster og publikasjoner der ute som springer ut av kunstnerisk aktivitet, og lik en underskog gir næring både til litteraturen, billedkunsten og samfunnsdebatten. Disse stemmene er betydningsfulle i kraft av å representere en frittstående vilje til å si noe, mene noe, ta spranget fra det usagte til det sagte, gi det stumme en stemme.
Bastard representerer et mylder- og avarter av vital tenkning, billedspråk, intellektuelle dypdykk, og stadig nye forsøk på å bevege seg inn i grenselandene mellom det kjente og ukjente.
Kunstbok- og småforlagsbransjen er et stort, uregjerlig, tverrfaglig og internasjonalt felt som relativt sett er lite eksponert i norsk sammenheng. Bastard representerer i så måte kun toppen av isfjellet, men har som målsetting å være et samlingspunkt og utstillingsvindu for feltet, og å vise frem mangfoldet innen disse ytringsformatene.
Messen synliggjør og formidler norske kunstbøker og kunstnerbøker, småforlag og tidsskrifter. Den 25. Og 25. mai vises og selges kunstverk i bokform, plakatkunst, fotobøker, eksperimentell poesi, fanziner, fagtidsskrifter, og andre bokformater på Stortorget midt i Lillehammer. Bastard har sitt eget fagprogram med presentasjoner, workshops og samtaler som offentliggjøres i løpet av april.
Bastard Art Book Fair
Bastard Art Book Fair is a yearly event initiated by Oppland Art Centre in 2017, Lillehammer, Norway. The fair is done in collaboration with the Norwegian Literature Festival in Lillehammer, and explore the overlap between contemporary visual art and literature. The program consists of a vide range of art-publications such as art-books, artist-books, posters and art-magazines. Furthermore the program offers workshops, conversations and presentations by participants, and an exhibition by visual artists using text or books as an essential part of their practice.
The core of Bastard is art as performed expressions, art as language, art that addresses and contributes to the society. Bastard focuses especially on the intersection between the visual language of images and the textual language, literature and books. There is an ocean of texts and publications that is rooted in artistic activity, and like an undercurrent provides nourishment both to the field of literature, the visual arts, and a wide range of public discourses. These voices are significant by representing a free will to make the unspoken outspoken, and give voice to invisible thoughts. Bastard Art Book Fair represents myriads and bastards of vital thinking, visual language, intellectual deep-diving, and new attempts to move into the borderlands between the known and the unknown.
Bastard is kindly supported by Arts Council Norway, Oppland County and the City of Lillehammer
Multiple Art Days 14.-16.9.2018, Participants:
OPLANDIA
It is about creating with a global mind in a rural context. It is about relating, connecting, moving, thinking, reflecting, doing. It is about being closer to something different.
OPLANDIA came out of the experience of being professional artists choosing to live outside of the urban context. The high levels of conversations and discussions where more difficult to access and the dissemination of the work are almost non-existing.
With a strong notion that the rural influence gives something valuable and unique to the artistic process, the platform OPLANDIA was born out of necessity.
We like to think of OPLANDIA as a changeable space for artists to explore and have professional conversations in whatever form they like and about whatever theme they want within a rural context.
Welcome!
https://opplandia.com
Mads Andreas Andreassen (1986) is educated at the Oslo National Academy of the Arts and at Kunstakademie Düsseldorf. He is living and working in Lillehammer, Norway, where he runs the space Elephant Kunsthall alongside his own artistic practice. Andreassen is working with painting, graphics, music and video. His works shows an interest in self-reflection within painting and the social. Andreassen is the leader of the Art Association for Visual Artists i the region Oppland (BKO), Norway.
Elephant Kunsthall is an independent not-for-profit venue for international contemporary art and research located in Lillehammer.
Per Jonas Lindström (1955) is a visual artist, resident in Oslo and Tistedal, Norway. During his long artistic career, he has distinguished himself through exhibitions and art projects in Norway, as well as abroad. In his practice he works parallel with sculpture, collage, painting, architect models, photography and books inspired by cartoons and the many small and intricate stories of life. For 30 years he made both unique artist books, as well as limited editions. He has given workshops and taught at preschools, colleges and for programs with his veritable book factory. It is and understatement to say that PJL has educated and inspired many artists in the art of creating artist books.
"We are living in an expanding universe, after the Big Bang. My art is simply reflecting the existing cosmic laws, where the books are small stops or benchmarks in a striving directed beyond."
Julie Lillelien Porter is an artist and curator living and working in Bergen, Norway. She has her education from The Glasgow School of Art and Bergen Academy of the Arts. Her artistic practice is rooted in sculpture, text and spatial issues, with an underlying interest in the psychological and corporeal. Collaborative and self-organised projects are also central in Lillelien Porters work, both as artist and curator. She is currently artistic director of Lydgalleriet, situated in Bergen, Norway.
https://julielillelienporter.net
Grafters' Quarterly is an Oslo-based English-language newspaper shaping a forum for engaged attitudes, founded to address the belief in theorising as an activity of initial discovery rather than one implying a specific methodology. Concerned by this attitude, they wants to form a space in which participants from differing fields can push their writing and ideas rigorously without stylistic restrictions. Offered in the spirit of newspapers acting as congregators of social conscience, Grafters' Quarterly attempts to gather different modes of address, encouraging an agile consideration, and potential correspondence, of such diverse temporalities and forms of language. The name of the newspaper alludes to this: 'grafting' denoting writing, the merging of one plant in another to facilitate continued growth, as well as a more colloquial expression for 'work'.
Founded and edited by Tora Endestad Bjørkheim and Johnny Herbert.
http://www.graftersquarterly.com
Hans Kristian Borchgrevink Hansen (1985) is educated at Nordland Kunst og Filmfagskole, The National Academy of the Arts in Oslo, and the Academy of the Arts in Bergen. Hansen explores his immediate surroundings, environments that we constantly frequent and take for granted. He attempts to take the materials seriously, even if they are found in the cracks of a sofa or in the bottom of his pockets, and not to shape them according to predetermined ideas, but by letting the inherent characteristics of the material lead the way. As a passive artist, he is led by the minuscule, often tuned into a layer of debris from the streets or the seabed. His projects take the shape of small travelogues, where one can equally blend fact and fiction, image and text.
Kay Arne Kirkebø (f.1979) lives and works in Bergen, Norway, where he also attended the Master programme at the Academy of the Arts. Kirkebø is mainly working with drawing within images, video and books/fanzines. He is known for his characteristic detailed utopian city-visions, and slap-stick aesthetics with subtle scenes from everyday life. His works are presented in a wide range of Norwegian and international galleries and artist-run spaces.
http://www.kayarne.net